I have class in 41 minutes, so all logic says that it's time to start writing blog post that takes 30+ minutes to compose. (That was sarcasm based on my somewhat, ah, creative time-management skills. I somehow manage to get great grades anyway, though, so you know.)(Hey! At least I did the homework before starting in on the blogging!)
Anyway, personal rants regarding my scheduling methods aside, our Caribbean guest is doing well. I'm sure we all wanted to hear that, but I guess high oceanic heat content and low atmospheric wind shear doesn't change for the emotions of mere humans. (Please forgive my strange mood today, I'm not really sure what's prompted it.)
At 2pm the NHC reported that winds had bounced back to 70mph, and given Gustav's incredible appearance on satellite (below) I'd say that number is going to climb a lot higher pretty soon. In their 11am forecast discussion the NHC had this to say about the chances of rapid strengthening:
THE CYCLONE WILL HAVE MORE THAN 24 HOURS OVER THE VERY WARM WATERS OF THE NORTHWESTERN CARIBBEAN…AND BENEATH AN UPPER-LEVEL ANTICYCLONE…SO STRENGTHENING SEEMS IMMINENT AND COULD EVEN BE RAPID. THE RAPID INTENSIFICATION INDEX BASED ON THE SHIPS MODEL INDICATES A 28 PERCENT CHANCE OF AN INTENSITY INCREASE OF 30 KT OR MORE DURING THE NEXT 24 HOURS. SINCE THERE IS ABOUT 36 HOURS LEFT BEFORE GUSTAV CROSSES CUBA…THERE REMAINS SOME POSSIBILITY THAT GUSTAV COULD BECOME A MAJOR HURRICANE BEFORE CROSSING THE WESTERN PORTIONS OF THAT ISLAND. CONDITIONS OVER THE GULF OF MEXICO APPEAR TO SUPPORT A MAJOR HURRICANE AS WELL…ALTHOUGH WIND SHEAR COULD INCREASE A LITTLE.
Impressive, eh? Perhaps only so in comparison to how it looked even 12 hours ago when it was still over Jamaica.
In terms of track, well, what can I say that we haven't said already? The Cayman Islands are going to get it later today and tonight (you can follow along by watching the weather at Grand Cayman where winds are currently 20MPH) and western Cuba is going to get pounded on Saturday. Both areas have hurricane warnings currently in effect. From there, the majority of the computer forecasting models bring the storm into Louisiana early next week. A couple of models curve the storm off toward Texas but the NHC is rightly discounting those models as outliers in its latest track forecast (below). For now, I'm going to stick with the forecast I made last night of a landfall between eastern Texas and the AL/FL state line with the understanding that Louisiana looks like the most likely landfall state right now.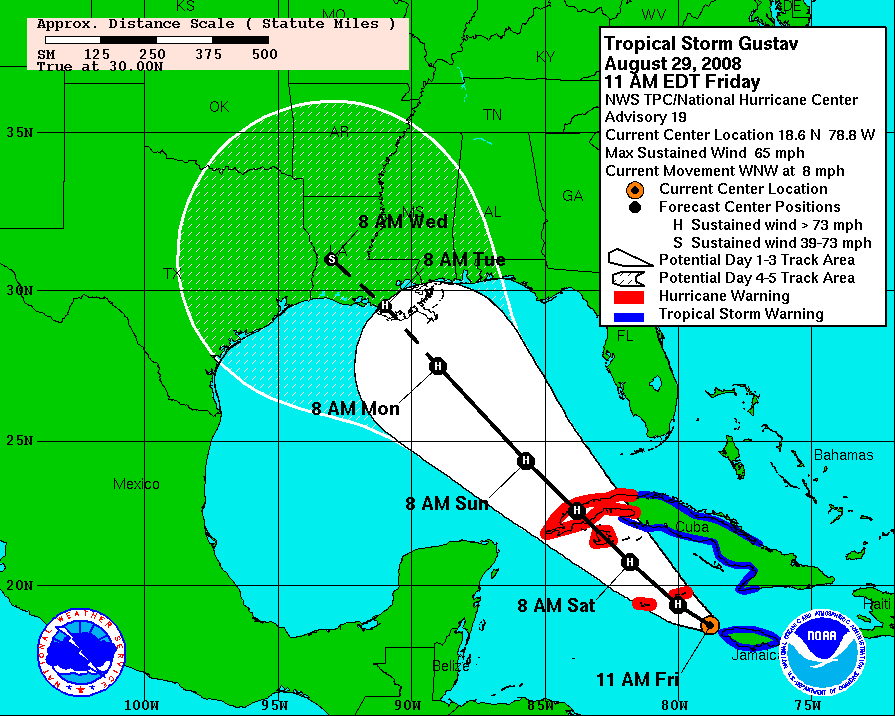 I should really split for class now, but here's a couple of last thoughts:
1. Gustav is visible on Cuban radar if you want to follow along.
2. Check the Gustav tag for all my posts on this storm.
Stay safe, y'all.
-j